Thilla Theus is a successful architect who definitely established herself in the first league of the Swiss architectural scene with the opening of the Hotel Widder in Zurich's old town in 1995 at the latest. In both large and small projects, she always has an eye for detail. She takes care to incorporate specifications such as those of the fire police into her design work and sees the circulation areas as the basic framework of a building.
«The horizontal and vertical connections give the building a clear structure »
The lift always plays a special role for her and she stages it in a special way, as four of her projects beautifully illustrate.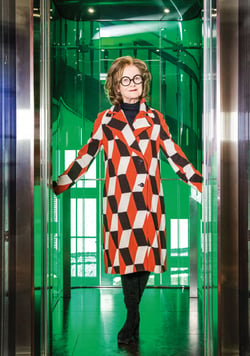 The planning of the Hotel Widder began in the eighties and envisaged the gutting and conversion of eight houses. The existing building structure was suitable for everything except vertical access to the house. Therefore, Tilla Theus created a steel construction for both staircase and lift that created a maximum contrast to the old substance, which is why there were fears of rejection. However, the staircase and lift construction was an appreciated key piece from day one up to today.
In 2000, Tilla Theus completed the renovation of the Swiss Re headquarters in Zurich. In the process, she integrated the previously fallow inner courtyard by closing it with a glass roof and setting the corridors, stairs and lifts in relation to it. On the horizontal level, this was easy; on the vertical level, toilets had to make way for the construction.
The Zurich architect also helped with the design of the Fifa headquarters. The result was an aesthetic network of corridors on the horizontal and four towers on the vertical, each including a staircase and a lift. Only a few materials were used, but they were processed with the utmost precision.
Last but not least, Theus created a top restaurant with guest rooms in Freidorf, Thurgau: The traditional "Mammertsberg" inn with a view of Lake Constance was converted and expanded. The lift was placed in the eye of the stair case. The corners of the glass shaft and cabin were rounded off. This created the impression of a bottle in a glass.